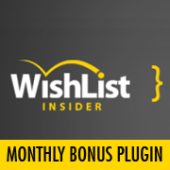 UPDATE:
Wishlist Gifts is no longer available for purchase. Send us a quote request for custom development at
http://wishlistmemberdevelopers.com
or check out all the available plugins and extensions for Wishlist Member in the
most thorough repository
we built.
Wishlist Gifts is a very powerful plugin that will help increase your membership site's revenues tremendously.
The plugin basically allows your users to purchase memberships for others as a gift.
I personally think this is a very cool plugin that can help you both:
Get new members – You will be able to reach people you probably wouldn't have reached by yourself
Focus on retention – Increase your active members' engagement to your membership site and give yourself a very solid indication how engaged they really are according to the number of gifts they buy
Think about it…