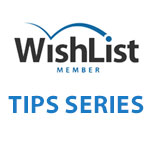 If you are using Wishlist Member pay-per-post feature you probably realized that the Wishlist Member error page that is displayed to a member or a visitor that does not have access to the content is the general error page (which is defined inside the Wishlist Member settings).
It is very important that your error page will drive the potential customer to purchase the content that he is trying to view.
A good error page should include content that is relevant to the content the visitor tried to view.
Because Wishlist Member only supports one error page when using pay-per-post, it is impossible to create an error page that will suit and be relevant to all your pay-per-post content using Wishlist Member alone.
What You Get From this Tip?
In this tip we go over how you can create a dynamic error page for your pay-per-posts to convert more visitors to members and maximize your revenues.
Register for Free to Get Access
Register to our FREE membership on the form to your right and get immediate access to this tip and to all the upcoming tips about Wishlist Member.

Read more…