Case Study #1: Building a Membership Site Like Wishlist Insider

March 10, 2015

1 Comment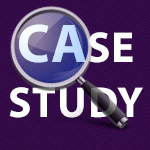 Wishlist Insider
is a closed online community managed by Wishlist Products, the company behind Wishlist Member.
We thought it will be appropriate to start our case study series with Wishlist Insider.
What is the Case Study Series?
In the case study series we take popular membership sites and analyze them, from: structure and flow, to the types of integrations used, plugins and more.
We decided to start this series as we sometime get requests from clients to build them a membership site "just like…".
We decided to share with you how successful membership sites are structured, which plugins can help you achieve what you want using Wishlist Member plugin and maybe even give you new ideas for enhancing your site you, ideas you haven't even though about.
Make sure you also check case study #2:
Case Study #2: Building a Membership Site Like Platform University by Michael Hyatt
So let's just right to the first case study…
Wishlist Insider Case Study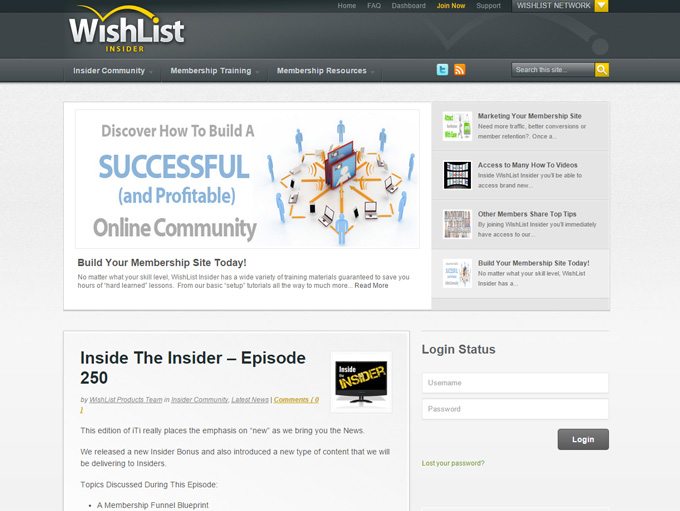 Structure and Flow:
The Members' Dashboard
The dashboard is the first page members see when they login to the site.
The dashboard is built using Wishlist Dashboard plugin and it contains links to all the important areas in the site:
Quick start videos
Support helpdesk
Training videos
Bonus materials
Upcoming events
Membership details (using Wishlist ID Card plugin)
And more
The Homepage
The homepage is like a blog (magazine style) with teaser content.
Teaser content makes all the content above the "read more" tag available for non-members, and all content after it closed for members only, so when a non-member clicks to enter the post itself, he is redirected to an error page with a call to action to register to the membership site (a sales page).
Content Dripping
Members who register to Wishlist Insider get immediate access to all the content, it is not dripped to them.
However, there is a monthly bonus (plugin, mini course etc.) that is released, and it is only available to members who register during the month the bonus was released.
So, for example, members who register during March 2015 will get access to all the bonus released in March 2015 and all future bonuses, but they will not have access to previous months bonuses.
The monthly bonuses are managed by Wishlist Content Archiver plugin.
Gamification
The gamification is a big part of the membership site, members are granted with points for participating and staying active (for example: posting in the forum, commenting etc.).
Each member can see just how many point he has in the member's profile details and he can also see who are the leading members of all time and of the last month.
Gamification has an important part in increasing members interaction and engagement.
The points are calculated and displayed inside the membership site using Wishlist Points plugin.
Members Directory
Wishlist Insider displays a directory of all the existing members using the Wishlist Directory plugin which allows you to search and display member information and profiles in a very convenient way.
Insider Chat Widget 
The Wishlist Insider chat that displayed on the sidebar when you are logged-in to the website is powered by a free plugin called WP-Wall. The design on the chat is customized to be adapted to the entire website's design.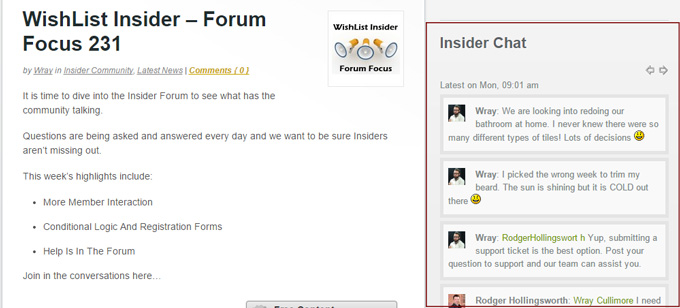 Integrations:
Shopping Cart – InfusionSoft (Open a free demo account) along with Wishlist Member for InfusionSoft Service
Affiliate Program – InfusionSoft
Forum – SimplePress
Wishlist Insider Theme:
Wishlist Insider theme is a child theme of the Canvas theme from Woothemes, the child theme is highly customized to achieve the design that you are seeing on the website.
Videos Display:
All current videos that are posted on Wishlist Insider are hosted on Vimeo using a pro account, which allows you to limit the access to the video to specific domains.
In that way, you can create private membership videos that cannot be viewed in any other place than your own website.
Add-Ons:
Wishlist Insider uses different Wishlist dedicated plugins to empower the membership site:
Allows you to create multiple dashboards for each membership level.
This is the dashboard of Wishlist Insider: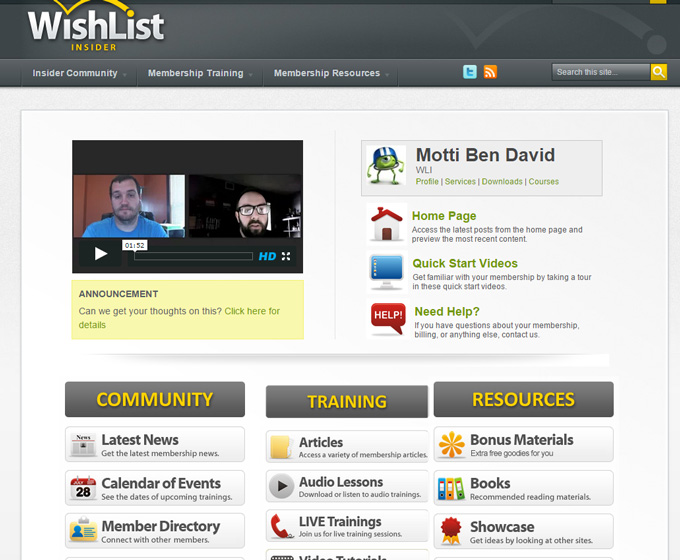 Allows displaying an eye-catching navigation area in the sidebar to main parts of the membership site.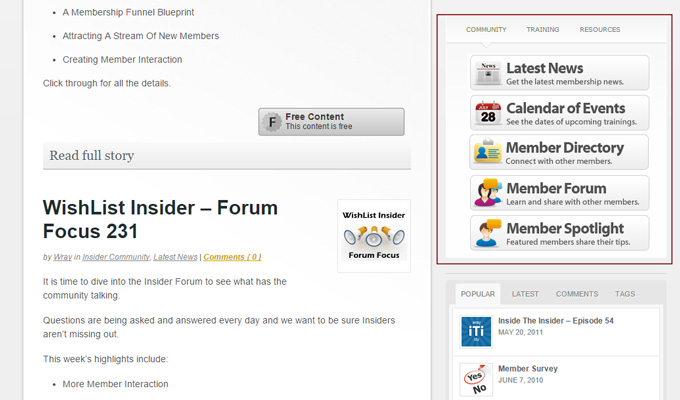 Allows displaying a graphical icon in your posts' excerpt to notify which posts are open for all users and which are protected.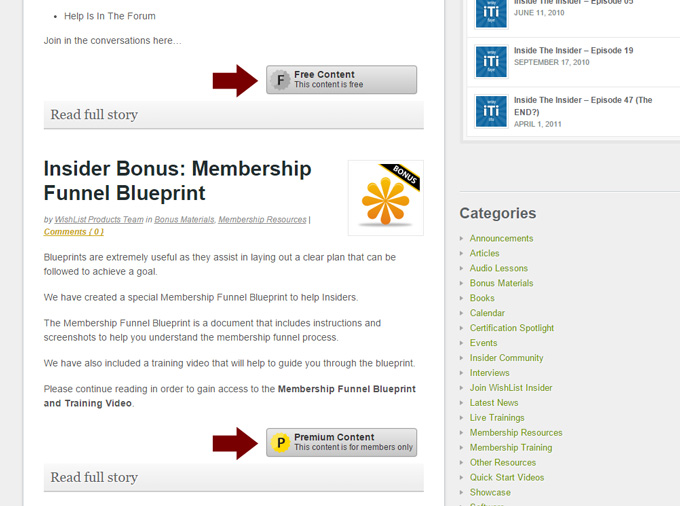 Allows members to tag each other in comments and forum discussions by using the @ sign and by starting to type the member's name.

The member that was tagged gets notified by email so he can join the conversation. Great for increasing interaction between members.
The plugin also allows you to add each member's latest notifications in the sidebar as you can see in the below screenshot under Notifications:
Wishlist Points allows members to earn points based on various actions throughout the site. Points can be redeemed for access to protected content and to gain access to additional membership levels.
You can see how the points system looks like live inside Wishlist Insider (sidebar):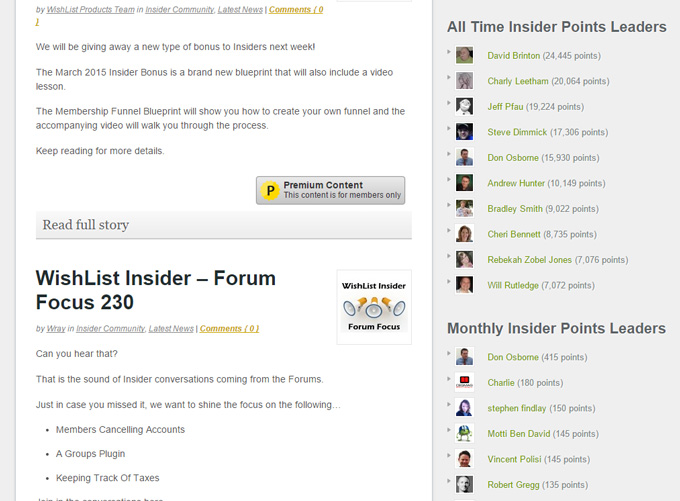 Wishlist Content Archiver allows you to archive content after a specific date so that only the members who belonged to your membership when that content was released will have ongoing access.
Don't forget  to check case study #2:
Case Study #2: Building a Membership Site Like Platform University by Michael Hyatt
One-Stop-Shop for Wishlist Member Users
Our services are provided by Wishlist Member certified developers only. We have the best developers who know Wishlist Member code better than anyone else. We know Wishlist Member inside out, we understand how it works and we understand its code.
We develop custom plugins for 9 years now, for clients and for our own personal use, and we are the no.1 3rd-party company who develops plugins for the Wishlist Member platform.
Need any of the following services for your Wishlist membership site?