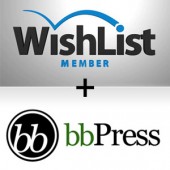 Many of our clients have asked us in the past if Wishlist Member integrates with bbPress forum.
Well, until now, bbPress did not have a complete integration with Wishlist Member, as when integrating the two of them, there was no option to protect the main forum index page nor the topics and replies within the forum to be seen by members only.
Regarding the main forum index page (E.g. http://yourdomain.com/members-forum, it could not be protected at all.
Regarding the topics and replies created by your forum's members, they could only be protected by the admin manually, meaning: you needed to enter each topic and reply >> go to the Wishlist Member Meta box >> define the protection settings for each.
Finally! New Wishlist Member bbPress integration plugin is now available…