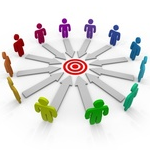 Having a free membership on your membership site is, in my opinion, one of the most effective way to attract more paying members, since you give them an opportunity to be impressed by the quality and the value your free content, and you actually build their trust, and when your people trust you, they are more likely to buy from you.
Wishlist Registration Widget was developed by our team to simplify the registration process for your free membership, and in that way to attract more visitors to register.
Wishlist Registration Form is the form that appears in this side to your right.
But what is the difference between Wishlist Registration Widget and Wishlist Member regular registration form?