Is There a Plugin for Wishlist Member That Notifies Users Days Before Their Accounts Expire?
About Bob Tolbert
User of Wishlist Member starting from the early versions, developed many membership websites for clients. My specialty is coding and special projects and tasks. I love wind surfing and long walks. Bob is also the development department manager at
HappyPlugins.com | Plugins & Guides for eCommerce Websites
Leave a Reply
Empower Your Membership Site!
What Our Customers Say
"Just wanted to let you know that the plugin is working great and incomplete registrations have gone to zero! I'm definitely going to do a review of the plugin and get it for my own site." MaAnna Stephenson BlogAid.net

"Bob Tolbert's Wish List Member plugins have made life easier on us by automating processes that would normally eat up a ton of admin time. I especially appreciate Bob's quick response time and customer service. Fact is, our membership website would not function without these plug ins." Michael Burwell TheHangoutHelper.com

"This plugin is the best way to supercharge your membership signups. I was especially impressed by the developers prompt customer service!" Stan Smith PushingSocial.com

"The Wishlist Auto Registration plugin is really great, I love it! And the support you guy's deliver are really outstanding! Thank you so much!" Johan Skalberg kalisikaran.info
Wishlist Member Dedicated Plugins
HappyPlugins Products Live Demos
Login Status
STAY UPDATED, LIKE US NOW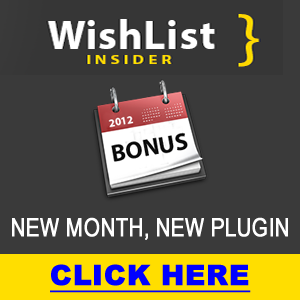 Wishlist Member Dedicated Plugins