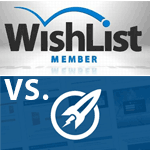 OptimizePress 2.0 includes a membership plugin called OptimizeMember and we are being asked by clients which is better to use as a membership platform – OptimizeMember or Wishlist Member.
So we decided to publish this post with some key points and let you make the best decision for you on your own.
In this post we give you a complete overview of both Wishlist Member and Optimize Member.
Just to let you know, Optimize Member plugin can only be purchased as part of the OptimizePress package that also includes the OptimizePress theme and plugin.
The OptimizePress theme and plugin are the same, the only difference is that if you want to use OP as your main theme you need to use the theme version and if you only want to use it for certain pages such as: your membership pages / landing page / squeeze page etc. you need to install the plugin version and use any other theme you want as your main theme.