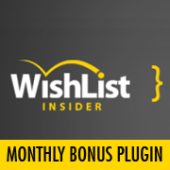 UPDATE:
Wishlist Selector is no longer available for purchase. Send us a quote request for custom development at
http://wishlistmemberdevelopers.com
or check out all the available plugins and extensions for Wishlist Member in the
most thorough repository
we built.
Wishlist Selector allows you to present various pieces of content your members can choose from. Each choice member make customizes their experience and ensure they are getting the content they want.
The Wishlist team has definitely raised the bar with this plugin!
Wishlist Selector is an amazing plugin that will allow you to create "paths" for your members to follow and present them with content that is relevant for them according to the "paths" they chose.
You will actually be able to guide them through the site and point them to a specific result according to a series of questions you ask them and according to the answers they choose.