Wishlist Dashboard

January 3, 2012

3 Comments

Wishlist Dashboard will give you easy tools to create your members dashboard.
With Wishlist Dashboard you will make a great first impression by creating a visual dashboard containing icons and links to all the main areas of your site.
With point and click functionality, this plugin makes it super simple.
Wishlist Dashboard Features
First impressions count and when someone first joins our membership site, we want to make it easy for people to find what they are looking for, otherwise it creates confusion and confusion leads to cancellations.
But how do you create a beautiful, eye-catching Dashboard page (the first page your members will see when logging in) if you're not a whiz bang designer or developer?
With just a few clicks you'll be able to quickly create your own customized Dashboard page with a proven, easy to use layout.
Add your own icons, links, welcome video, featured links and much more. You also have complete control over colors, fonts, button sizes, tabs and the order of your quick links.
The best part is…
Your Dashboard page can be designed without "digging into the code". That means you have everything at your finger tips with point and click functionality.
Wishlist Dashboard Screenshots
Wishlist Dashboard Competitor
If You are interested in Wishlist Dashboard you will probably be interested in reading about Members Multiple Dashboard plugin.
Members Multiple Dashboard is an excellent plugin for managing your members dashboard.
Wishlist Dashboard Tutorial
You can get a sneak peek at WL Dashboard in this next tutorial.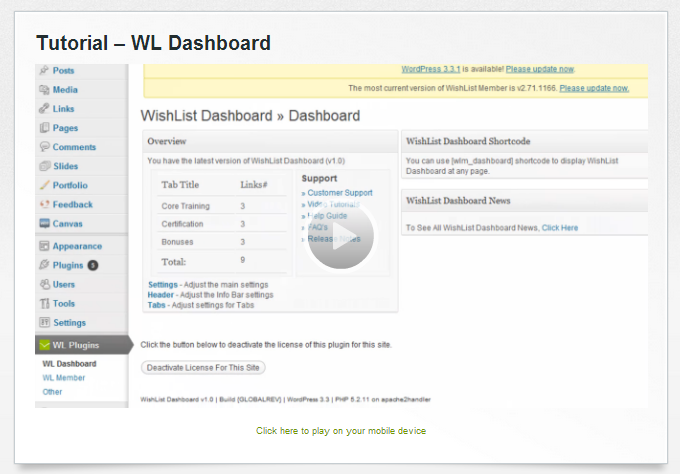 Go to Wishlist Dashboard Tutorial
How Can You Get Wishlist Dashboard?
Wishlist Dashboard is now available for purchase for Wishlist Member clients only using credits.
You may already have credits inside your account.
If you do, you can use these credits to purchase the plugins you need from the long list of excellent plugins Wishlist offers for sale.
If you don't have enough credits, don't worry!
You can purchase extra credits straight from your account.
To view all the available plugins click here (under "My Software")
Want to Get Wishlist Upcoming Bonus Plugins for FREE?
Wishlist Insider is a premium training, resources, forum and support for membership sites owners.
Wishlist Insider includes: Live training, webinars, videos, audio lessons, tips, marketing materials from the Wishlist Insider team and monthly BONUS plugins.
Join the Insider community and start building successful membership sites!
Read our full review on Wishlist Insider or click here to join today!