Wishlist Gifts – Wishlist Insider Bonus Plugin (April 2013)

April 4, 2013

0 Comments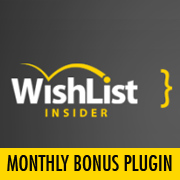 UPDATE:
Wishlist Gifts is no longer available for purchase. Send us a quote request for custom development at
http://wishlistmemberdevelopers.com
or check out all the available plugins and extensions for Wishlist Member in the
most thorough repository
we built.
Wishlist Gifts is a very powerful plugin that will help increase your membership site's revenues tremendously.
The plugin basically allows your users to purchase memberships for others as a gift.
I personally think this is a very cool plugin that can help you both:
Get new members – You will be able to reach people you probably wouldn't have reached by yourself
Focus on retention – Increase your active members' engagement to your membership site and give yourself a very solid indication how engaged they really are according to the number of gifts they buy
Think about it…
The most powerful recommendation is a recommendation that comes from people who are close to us and care about us, especially if it was paid for us in advance by the person who recommended it.
Whether your membership site is already solid and active, or whether it's new and need a boost, with Wishlist Gifts your site's earnings are more likely to highly improve.
Wishlist Gifts Settings
In the Settings tab you can decide which membership levels will be given as gifts.
All you need to do is check your desired levels and add the payment link from your integrated payment gateway to make Wishlist Gifts work.
You can also set the after registration page and the registration form's information as seen in the screenshot gallery below.
Wishlist Gifts Emails
In the Emails tab you can set the notification emails the gift receiver will get.
There are 4 emails in total:
The gift notification email – Lets the person know he was given a membership to your site as a gift.
Reminder email #1 – If the gift receiver didn't respond to the first notification  You can set after how many days after the first notification it will be sent.
Reminder email #2 – If the gift receiver didn't respond to the first reminder. You can set after how many days after the first notification it will be sent.
Reminder email #3 – If the gift receiver didn't respond to the second reminder. You can set after how many days after the first notification it will be sent.
Wishlist Gifts Reports
The report gives you an indication about all the membership gifts that where sent.
This report is very important, so if you would really like to get the best from this plugin, you should stay updated constantly.
The details in the report include:
Receiver's Name
Receiver's Email
Giver's Name
Giver's Email
Transaction ID
Membership Level
Date
Status
Wishlist Gifts Screenshots
Wishlist Gifts Tutorial
Want to know more on Wishlist Gifts? Don't miss Wishlist's tutorial!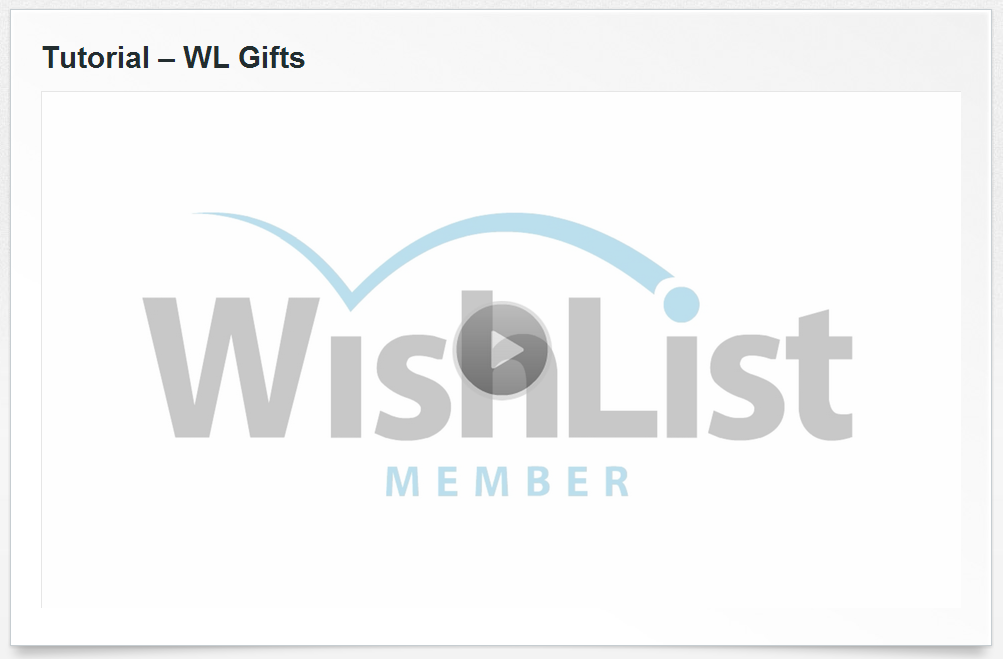 Click To Watch Wishlist Gifts Tutorial
Wishlist Gifts Webinar Replay
Every month the Wishlist team is presenting a webinar about the new bonus plugin and answer questions from other insiders.
You can check out Wishlist Gifts webinar here:
Click To Watch Wishlist Gifts Webinar
In Conclusion
Wishlist Gifts is awesome! It focuses both on getting new members and retention with your existing members.
This plugin is perfect for boosting your sales and revenues during the holidays season, but not only.
Many of Wishlist Member's current users have been asking for this plugin for a ling time, and now that it is out there, all you need to do is register to Wishlist Insider and grab it now.
How Can You Get Wishlist Gifts?
Wishlist Gifts is now available for purchase for Wishlist Member clients only using credits.
You may already have credits inside your account.
If you do, you can use these credits to purchase the plugins you need from the long list of excellent plugins Wishlist offers for sale.
If you don't have enough credits, don't worry!
You can purchase extra credits straight from your account.
To view all the available plugins click here (under "My Software")
Do You Want Wishlist Monthly Bonus Plugin for FREE?
Wishlist Insider is a premium training, resources, forum and support for membership sites owners.
Wishlist Insider includes: Live training, webinars, videos, audio lessons, tips and marketing materials from the Wishlist Insider team.
Join the Insider community and start building successful membership sites!
Read our full review on Wishlist Insider or click here to join today!