Wishlist Quiz

November 17, 2011

Comments Off on Wishlist Quiz

Wishlist Quiz creates quizzes for your members with options to require a passing grade before moving on to the next level.  You can easily add the quiz to any post or page with a simple shortcode.
You can create a new quiz with as many multiple choice questions as you like in just a few minutes, set the "passing grade" for your quiz and select the level you would like your members to be added to when they pass.
Then you can add this quiz to any post or page with a simple shortcode and voila, you're all set.
Why You Should Get Wishlist Quiz?
With Wishlist Quiz you can reward you members when they pass a quiz and get your members to be more involved in your site, and by that decreasing the chances of them to cancel their subscription.
Wishlist Quiz provides you an easy way to add all kinds of interaction within your membership. It's perfect if you're teaching any kind of course or material where you want to see if your members are following along and you can reward them by adding them to the "next level" once they pass.
Wishlist Quiz Screenshots
Wishlist Quiz Tutorials
Wishlist Quiz Tutorial #1 – Quiz Creation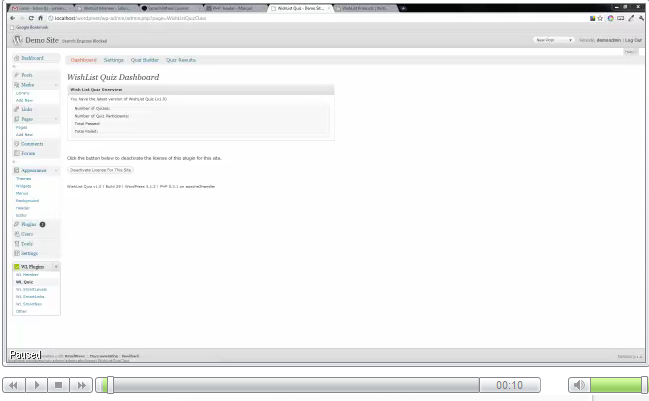 Wishlist Quiz Tutorial #2 – Quiz Embedding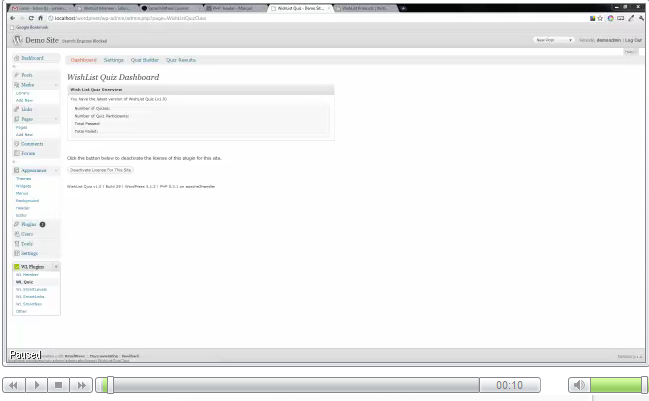 Go to Wishlist Quiz Tutorial
How Can You Get Wishlist Quiz?
Wishlist Quiz is now available for purchase for Wishlist Insider community only. Until now, only members who were part of Wishlist Insider's community at the time WL Quiz was released, but recently the Wishlist team had decided to let the community members the option to purchase each of their past released plugins separately.
Now, they hadn't specified if the option is time limited, so you really should grab this opportunity and be a part of Wishlist Insider community. It really is a great community and it's great being a part of it.
Go to Wishlist Insider Homepage
Want to Get Wishlist Upcoming Bonus Plugins?
Wishlist Insider is a premium training, resources, forum and support for membership sites owners.
Wishlist Insider includes: Live training, webinars, videos, audio lessons, tips, marketing materials from the Wishlist Insider team and monthly BONUS plugins.
Join the Insider community and start building successful membership sites!
Read our full review on Wishlist Insider or click here to join today!