Wishlist Tags

May 1, 2012

2 Comments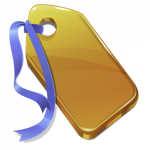 UPDATE:
Wishlist Tags is no longer available for purchase. Send us a quote request for custom development at
http://wishlistmemberdevelopers.com
or check out all the available plugins and extensions for Wishlist Member in the
most thorough repository
we built.
Just like in Facebook or Twitter, with this plugin your members can "tag" each other in comments or forum discussions.
The person is then notified and invited to join the discussion which has proven to immediately increase interaction within any membership site.
One of the ingredients to a successful membership site is interaction. The more involved and engaged your members, the more likely your site will be successful.
But how do you get them involved and how can your members easily get each other involved? Well… you can do that with Wishlist Tags.
What Can Wishlist Tags Do?
Wishlist Tags mirrors the functionality of Twitter and Facebook by providing your members the ability to "tag" one another in a post, page or comments. This then notifies those people who have been tagged which in turn sparks further back and forth discussion.
All your members need to do to tag one another is include the "@" and then the member's name. For example @JohnDoe would tag "John Doe" and he would be notified accordingly with a link to the area where he has been tagged.
The nice part is, you (as the admin) can decide what membership levels can tag one another (ex. Silver members can but Non-Members can't), the message that's sent to your members when they are tagged and how you would like to display the "notifications" within your site.
It comes with a handy sidebar widget that displays your members latest notifications and you can even insert a shortcode on any post or page that will display all the latest notifications for that specific member.
The concept is a proven winner and now for the first time ever you can add this type of functionality to your membership site.
Wishlist Tags Screenshots
Wishlist Tags Tutorials
Click on the button below to watch WL Tags tutorial:
Usage Instructions
Integrating With SimplePress
How Can You Get Wishlist Tags?
Wishlist Tags is now available for purchase for Wishlist Member clients only using credits.
You may already have credits inside your account.
If you do, you can use these credits to purchase the plugins you need from the long list of excellent plugins Wishlist offers for sale.
If you don't have enough credits, don't worry!
You can purchase extra credits straight from your account.
To view all the available plugins click here (under "My Software")
Want to Get Wishlist's Upcoming Bonus Plugins for FREE?
Wishlist Insider is a premium training, resources, forum and support for membership sites owners.
Wishlist Insider includes: Live training, webinars, videos, audio lessons, tips, marketing materials from the Wishlist Insider team and monthly BONUS plugins.
Join the Insider community and start building successful membership sites!
Read our full review on Wishlist Insider or click here to join today!