Wishlist Variables – Wishlist Insider's December Bonus Plugin

December 6, 2012

2 Comments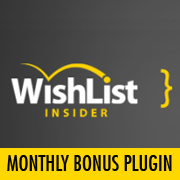 UPDATE:
Wishlist Variables is no longer available for purchase. Send us a quote request for custom development at
http://wishlistmemberdevelopers.com
or check out all the available plugins and extensions for Wishlist Member in the
most thorough repository
we built.
Wishlist Variables is one of the best bonus plugins given away by the Wishlist team so far. WL Variables allows you, as the membership site's owner, to create and show different variable content to different membership levels by creating simple shortcodes and adding them inside posts and pages.
How Can You Use Wishlist Variables?
The possibilities with WL variables are really endless, you can be vary creative with this plugin.
For example, you can use it to create a time limited announcement or a special offer only to certain membership levels.
The date range can also be used for displaying special messages in certain holidays.
All you need to do is use your imagination and the sky is really the limit.
Wishlist Variables Settings
Range Display Settings
Date Range Only – Allows you to set the specific dates you want your content to be displayed, for example: 21/5/12-12/9/12.
Day Range Only – Allows you to set the number of days you want your content to be displayed, for example: Day 2 till Day 5.
Date Range then Day Range – Allows you to set the priority of the Date Range before the Day Range.
Day Range then Date Range – Allows you to set the priority of the Day Range before the Date Range.
Variable Display Settings
There are 2 options to display the content: Display always and Display when viewing a single post/page only.
Wishlist Variables Screenshots
Wishlist Variables Tutorial
Go to Wishlist Variabls tutorial
How Can You Get Wishlist Variables?
Wishlist Variables is now available for purchase for Wishlist Member clients only using credits.
You may already have credits inside your account.
If you do, you can use these credits to purchase the plugins you need from the long list of excellent plugins Wishlist offers for sale.
If you don't have enough credits, don't worry!
You can purchase extra credits straight from your account.
To view all the available plugins click here (under "My Software")
Want to Get Wishlist's Upcoming Plugins for FREE?
Wishlist Insider is a premium training, resources, forum and support for membership sites owners.
Wishlist Insider includes: Live training, webinars, videos, audio lessons, tips, marketing materials from the Wishlist Insider team and monthly BONUS plugins.
Join the Insider community and start building successful membership sites!
Read our full review on Wishlist Insider or click here to join today!