Wishlist Widget Control

November 17, 2011

Comments Off on Wishlist Widget Control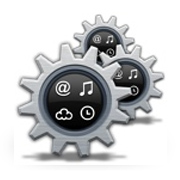 UPDATE:
Wishlist Widget Control is no longer available for purchase. Send us a quote request for custom development at
http://wishlistmemberdevelopers.com
or check out all the available plugins and extensions for Wishlist Member in the
most thorough repository
we built.
Wishlist Widget Control plugin allows you to display different widgets based on the membership level or based on the WordPress logical conditions.
This plugin is very simple but yet very powerful.
Wishlist Widget Control Features:
Control what widgets will be displayed  and when to display them
Supports all available widgets
Simple and straight forward settings
What Can you Do With Wishlist Widget Control?
Here are some ideas that you can use:
Display a Widget only to members that are logged in to your website.
Display a widget only for certain level, you will be able to create a special menu for a specific level
Display Widget only when a conditional expression is true, you can use built-in wordpress plugins like:  is_user_logged_in() or any other wordpress function.
Purchase Wishlist Widget Control in this link
Wishlist Widget Control Screenshot:
You will be to see the setting screen on any active widget, here is a screenshot of a text widget.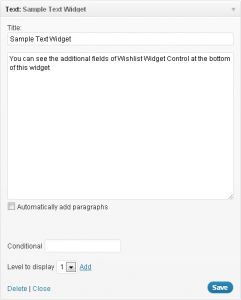 How Can You Get Wishlist Widget Control?
Wishlist Knowledge Base is now available for purchase for all of Wishlist Member clients using credits.
You may already have credits inside your account.
If you do, you can use these credits to purchase the plugins you need from the long list of excellent plugins Wishlist offers for sale.
If you don't have enough credits, don't worry!
You can purchase extra credits straight from your account.
To view all the available plugins click here (under "My Software")
Want to Get Wishlist Upcoming Bonus Plugins?
Wishlist Insider is a premium training, resources, forum and support for membership sites owners.
Wishlist Insider includes: Live training, webinars, videos, audio lessons, tips, marketing materials from the Wishlist Insider team and monthly BONUS plugins.
Join the Insider community and start building successful membership sites!
Read our full review on Wishlist Insider or click here to join today!