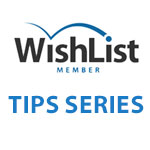 In some cases you would want to allow specific users free access to your paid membership site, for example:
If you are managing a forum and you want to allow access to moderators
If you want to give free access as a bonus / gift
 If you have several writers or contributors
What You Get From this Tip?
In this tip we go over how you can easily grant free access to your membership site to anyone you want very easily.
Register for Free to Get Access
Register to our FREE membership on the form to your right and get immediate access to this tip and to all the upcoming tips about Wishlist Member.