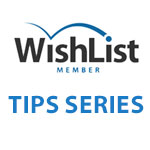 Are you planning on starting your own affiliate program and you are looking for affiliate programs that integrates with Wishlist Member plugin?
Then this tip is especially for you!
What You Get in the Tip?
The 3 groups of  affiliates programs available
7 popular affiliate platforms / software that integrate with Wishlist Member
Guiding questions to help you find the right option for you
Get Free Access Now:

Login to get all the tips or Register to our FREE membership using the registration form to your right and get immediate access to this tip and to all the upcoming tips about Wishlist Member!