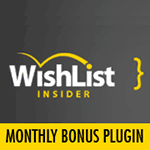 Wishlist is giving away a new plugin to the Wishlist Insider community on a monthly basis.
Like every month, all the details about the plugin will be revealed during a special webinar.
The webinar will take place on Tuesday, January 7th, 2014.
Who can register to the webinar?
Everyone who is registered to the Wishlist Insider community.
Wishlist usually release a replay, so if you miss the live webinar, you may be able to get the replay later on.
Who can get the free bonus plugin?
Only members who will be registered to the Insider community during January 2014 will get the bonus plugin.
The plugin will not be available for those who register to the Insider after January 31, 2014.
How much does the Insider membership cots?
The Insider's membership costs only $20 per month and besides the fact that you get a free bonus plugin each and every month, you also benefit from being part of this amazing community and get a lot more benefits as a membership site owner.
You can read our full review on the Insider's community here or register to the Insider here
Or register by clicking this button