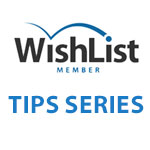 Using Wishlist Member you can build many membership sites models.
No matter which one of the models you decide to build, the list of Wishlist Member dedicated plugins that you will probably need to have on your membership site.
What You Get in the Tip?
In this tip we have collected the top 10 Wishlist Member dedicated plugins that will make you more money by:
A. Increasing your registration rates
B. Increasing your retention rates
C. Engaging your members
Get Free Access Now:

Login to get all the tips or Register to our FREE membership using the registration form to your right and get immediate access to this tip and to all the upcoming tips about Wishlist Member!