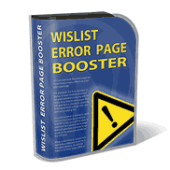 We just released our new plugin called Wishlist Error Page Booster. This plugin was created  a few months ago for personal use only.
We developed it because we noticed from our statistics that not quite large percentage of our sites' visitors are being redirected to an error page, and we figured it can be because of two main reasons:
1. Members are trying to access content protected by a level they don't have permission to.
2. Non members are trying to access members-only content.
It immediately occurred to us that there is great potential in converting these visitors and making more money from our sites.