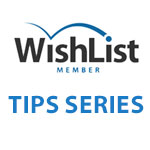 We are starting a new tips' series about Wishlist Member.
The series will be on a weekly basis (every and Thursday) and you will be able to easily access it by registering to our free membership.
In the first tip we will talk about the difference between Wishlist' old registration form vs. the new one and how to switch to the new  registration form.
One problem with Wishlist Member's registration form was that many members hadn't noticed the "existing member, please click here" option and went straight to creating a new account.
This may sound strange to you that people miss this big red-boxed notification, but they did, which created many technical problems for membership sites owners such as:
Duplicate registrations for existing members who create another account
Incomplete registrations for new members who skip this stage or abandon the page.
In version 2.8 the Wishlist team has improved the registration form to a more user-friendly one.
In this Tip You Will Discover:
What is the big difference between the old vs. the new registration form
The trick that the new registration form has to lower incomplete and duplicate registrations
How to switch to the new registration form
How to automate the registration process completely
Register for Free to Get Access

Register to our FREE membership on the form to your right and get immediate access to this tip and to all the upcoming tips about Wishlist Member.