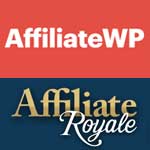 If you have entered this post, I assume that you are interested in getting a feedback on AffiliateWP and Affiliate Royale.
Though this website contains information mostly about Wishlist Member membership plugin, this review is not specific to Wishlist Member users only, and I highly recommend that you read it.
I'm sure you will find this review helpful as I have written it from our own personal experience as being both an affiliate for myself and also as a vendor with dozens of affiliates promoting our products through the years.
Anyway, if you are a Wishlist Member user, you should know that both AffiliateWP and Affiliate Royale integrate with Wishlist Member plugin.
Important Update from May 2018 about GDPR Regulation:
The AffiliateWP team had announced that AffiliateWP now comply with the Eueropean GDPR regulation (General Data Protection Regulation). You can read more about it in their blog post.
We haven't found any information regarding Affiliate Royale and GDPR regulation.