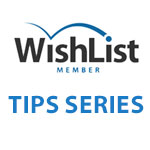 If you are thinking of dripping your content, or if you are already doing so and you want to make sure you are doing it right to maximize your revenues and your members' satisfaction, then this tip is exactly for you.
What You Get From this Tip?
In this tip we we have gathered the 5 most common content dripping mistakes we are seeing on a daily basis among our clients to help you take advantage of content dripping better.
Register for Free to Get Access
Register to our FREE membership on the form to your right and get immediate access to this tip and to all the upcoming tips about Wishlist Member.