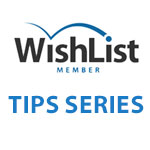 Many membership sites owners are dealing with that question when they build their membership site.
In this tip we go over the most popular pros of content dripping vs. delivering all the content in advance.
What You Get From the Tip?
The pros of Content Dripping
The Pros of Delivering All the Content in Advance
Content Dripping Plugin Specifically for Wishlist Member
The Bottom Line: Should I Drip My Content or Not?
Get Free Access Now

Login to get all the tips in this link or Register to our FREE membership on the form to your right and get immediate access to this tip and to all the upcoming tips about Wishlist Member.