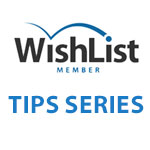 Integrating your membership site with an eCommerce platform will not only increase your overall sales and revenues, but will boost your business in so many ways.
If you want to further invest in your business and not only make it more successful, but also turn it to a solid business and increase your income stream in the long run then this tip is definitely for you.
What You Get From this Tip?
Wishlist Member eCommerce integration options
5 HUGE benefits to integrating Wishlist Member with an eCommerce platform
Register for Free to Get Access
Register to our FREE membership on the form to your right and get immediate access to this tip and to all the upcoming tips about Wishlist Member.