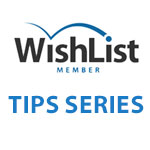 When you are using Wishlist Member you are using a WordPress platform to manage many aspects of your membership site, for example: user registrations is managed by WordPress and extended by Wishlist Member by adding the membership levels for each member.
If you want to protect your membership site by regular WordPress security plugins, you need to consider that some of them will conflict with Wishlist Member if you are using specific settings.
In most cases, all WordPress security plugins can be used with Wishlist Member, but you need to test a few elementary aspects after enabling any security plugin.
What You Get From this Tip?
In this tips we give you some very important tips for using security plugins with Wishlist Member.
Register for Free to Get Access
Register to our FREE membership on the form to your right and get immediate access to this tip and to all the upcoming tips about Wishlist Member.

Read more…