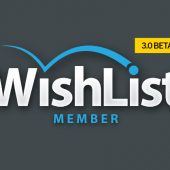 The Wishlist Member team has announced the upcoming release of V 3.0 and it looks amazing!!
Many users have found it too difficult to understand, as it includes so much features, and said that it has a very slow learning curve.
That is why we were very happy to find out that the Wishlist Member team is working on a new version for the platform, and were even more excited when we got the beta version and discovered that they have done major visual improvements.
The Wishlist team is recruiting current WLM users to try the beta version.
You can join the BETA version in this link:
https://hq.wishlistproducts.com/betasignup.php
You can also check out their announcement of the upcoming release and a SNEAK PEEK video in this link:
https://wishlistproducts.com/wishlist-member-3-0-is-coming
We will keep you updated when the new version is released and send you our complete review and overview.
To stay updated please make sure you are registered to our email list using the registration form on your right.