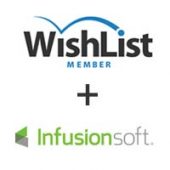 InfusionSoft is one of the most popular payment gateways used by Wishlist Member users, and when combined with Wishlist Member for InfusionSoft service, it is also one of the most powerful ones.
You can find out why in our post: Wishlist Member for InfusionSoft Service – Review & Overview.
If you are thinking of integrating Wishlist Member and InfusionSoft and you are new to either or both platforms then we have a special and very attractive offer for you:
Thinking of Purchasing Wishlist Member / InfusionSoft?
If you purchase InfusionSoft through this link we will grant you with a free licence for one of our top leading Wishlist Member dedicated plugins (which ever you choose):