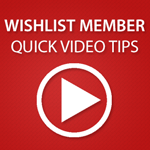 Many of our clients are either using the default error pages created by Wishlist Member plugin or tweak it a bit, but don't invest in really customizing them in a way they will actually help generate more registrations to their membership site.
The error page is actually one of the best pages you should invest some thought in, because only visitors who try to access specific content they don't have permission to watch go directly to the error page.
These visitors are hot leads! They just expected to continue reading something interesting on your site… And they want to continue reading it…
If you won't provide them with a way to do it they will probably leave your site and both of you will lose.
In this video tip we show you how you can easily create dynamic error pages that will make your visitors want to register to your membership site: