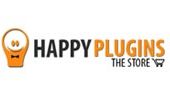 We are launching a new eCommerce site for WordPress plugins called Happy Plugins.
Happy Plugins website will include a large variety of plugins we have developed over the years for clients and for our own personal use.
We are uploading new plugins on a daily basis, so you may notice some of the have a "coming soon" notification.
Plugins that does not have the "coming soon" notification are available for purchase/ download.
Currently Available Plugins