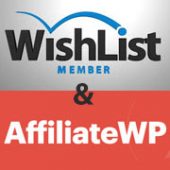 AffiliateWP is one of the most popular affiliate plugins, it has many features and functions and it also fully integrates with Wishlist Member.
In this post we go over how to easily integrate Wishlist Member with AffiliateWP.
The integration will allow you to track if the member was referred by one of your affiliates, and if so, then which one.
AffiliateWP is our favorite affiliate platform and we also use it to manage our affiliate program at HappyPlugins.com – Your 1-Stop Shop for membership & eCommerce Plugins.
Deliberating on which affiliate platform to choose? check our post – AffiliateWP vs. Affiliate Royale – Full Comparison
Wishlist Member and AffiliateWP Integration
This is how you can integrate Wishlist Member and AffiliateWP in 2 steps: