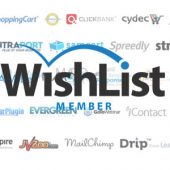 Many of our Wishlist Member customers have asked us to publish a list of all the integrations available for Wishlist Member.
In this post we have gathered all the plugins, platforms and services that integrate with Wishlist Member, including: eCommerce platforms, forums, affiliate software, LMS etc.
We will update the list from time to time.
If you know of a service, platform or plugin that integrates with Wishlist Member that is not on the list, please write it in the comments section.
Available Wishlist Member Integrations:
Click on the relevant service to scroll down to the complete list: