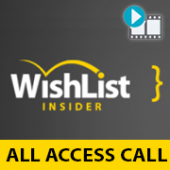 For those of you who have missed Wishlist Member's February live webinar, the webinar replay is now available for the
Wishlist Insider community members here
.
In the webinar the Wishlist team answers questions related to membership sites asked by the Wishlist users.
This webinar was hosted by Tracy Childers, the owner of Wishlist Member and Wray Cullimore, Wishlist's community manager.
The webinar takes place on a monthly basis, so as a member of Wishlist Insider you will be able to participate in these live webinars on a permanent basis and also ask your own questions.
Can the webinar help me?
The webinar is relevant for everyone who is building membership sites, whether he is building sites for clients or for himself.
The questions are in different topics and issues that can be very useful, even if you are a techie building membership sites for quite some time now. How can I get access to the webinar?