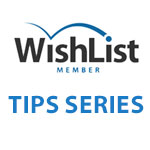 Coupons make an excellent tactic to increasing both your revenues and your members' satisfaction.
Many of our clients who are also Wishlist users keep asking us how they can use coupons with Wishlist, since this feature is not built-in inside the plugin.
What You Get in this Tip:
How you can create coupons with Wishlist Member
A great plugin to help you create coupons easily
Tips for using coupons the right way in order to maximize your revenues
Get Free Access Now:

Login to get all the tips in this link or Register to our FREE membership using the 1-click registration form below and get immediate access to this tip and to all the upcoming tips about Wishlist Member:
We will never spam you or give your email to any 3rd-party!
The registration is powered by Wishlist 1-Click Registration Plugin