Members Dashboard Plugin Review

October 16, 2011

0 Comments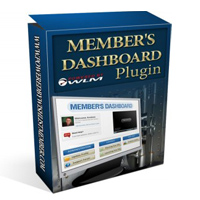 Members Dashboard plugin will help you take care of your members when they log in to your membership website.
Whenever a new member signs up to your site, it is best to let them have a good feeling of how they will be going about what they had signed up for.
You can achieve this by giving them a good interface that lets them know what to do next.  Building such an interface can be a very tedious job, especially if your membership website content is dynamic and constantly changing.
Members Dashboard plugin gives you all the right tools to build the perfect dashboard. The process of building a dashboard for your membership website could not have been easier than that.
Members Dashboard Screen Shots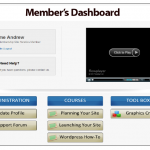 Go to Members Dashboard Plugin Homepage
Why I Love Members Dashboard?
Member Dashboard is definitely one of my favorite plugins. Every membership site owner wants his users to have a convenient experience when navigating through his site. In short, it must be user-friendly.
No one likes to go through sites where they can get lost in a matter of seconds. That is why most owners have search for a membership site developer to take care of this task for the very reason that it is not easy to set up.
By using this Members Dashboard plugin you will answer the most important questions that your member have:
 What to do next?
 Where to go to?
 How to raise a query if they need help?
I personally love the video feature; ever since I started using it I noticed the percentage of members cancelling their membership decreased.
You can also get Members Dashboard for multiple sites. Read the full review here
Bottom Line is…
I usually don't like to talk about the price of a product, but I just had to. Members Dashboard is practically free when you take in consideration the value it gives.
I would recommend you to get the more improved and advanced plugin called Members Multiple Dashboard.
You can read more about it in my Members Multiple Dashboard plugin review.
Members Dashboard Plugin – Bonuses
When you purchase Members Dashboard you will get 2 bonuses that will make the process of building your members dashboard easier.
To help you get up and running you will get:
Online Dashboard Graphics Creator
Sales Page Graphics Creator
Having Members Dashboard in your hands will simply make your website easier to use. You will love it, and so will your members.
Go to Members Dashboard Plugin Homepage
You May Find These Posts Interesting: