Tag Archives: Action Popup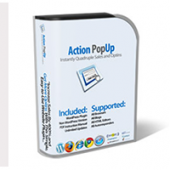 When I was just making my first steps in the online marketing world it used to be very challenging for me  when it came to having people to opt-in to my mailing list. I had a lot of trouble finding ways to persuade them to sign up to my website.
In line with having a bad opt-in rate, I failed to earn a decent amount of money from any of my websites. I needed to grab the attention of my visitors rather than just let them get out of my site time and time again.
Action Popup is a WordPress plugin that helped me address this concern by flashing sleek pop–ups that would convince visitors to opt-in to my mailing list before they even get a chance to leave my site.
Action Popup Has Some Outstanding Features
Action Popup is very easy to operate from the moment you install it like an ordinary WordPress plugin, to the time you integrate it to your email Autoresponder like MailChimp and Aweber, as well as until the moment you set up the pop-ups you want your visitors to show. Indeed, this simple process will get you ready to use pop-ups on your membership websites in a short amount of time.
Action Popup provides flexibility by letting you choose whether a user who has opted-in would be redirected to a particular page you have set or simply to the current page again.
Regardless, you will still be getting the higher opt-in rates that every internet marketer wants. Read more…