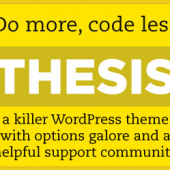 When people talk about themes, the thing that usually comes to mind would be simply the design of the website.
However, there are certain themes which are able to offer a lot more, especially when it comes to enriching your online business, such as Thesis Theme by DIYThemes.
Thesis is a WordPress theme that is relatively easy to customize due to its user-friendly interface.
With Thesis you will be able to do more than just enhance your website in terms of its appearance. You will also be able to attract more users, which will make your site more profitable. Read more…