Thesis Theme Review

April 7, 2012

1 Comment
When people talk about themes, the thing that usually comes to mind would be simply the design of the website.
However, there are certain themes which are able to offer a lot more, especially when it comes to enriching your online business, such as Thesis Theme by DIYThemes.
Thesis is a WordPress theme that is relatively easy to customize due to its user-friendly interface.
With Thesis you will be able to do more than just enhance your website in terms of its appearance. You will also be able to attract more users, which will make your site more profitable.
Thesis Theme Design Options
Thesis control panel design is very easy to explore and understand. Although on DIYThemes homepage you will find all the tutorials for getting to know the theme, you would not really have to go through all of them, since the interface is very simple to understand, and you also have ac description for each option when you click on the + sign to open each box.
In the design option you will be able to change different aspects of the layout, the header and footer, the fonts, and a whole lot more which you can see from the above picture.
While taking control of these things will involve different HTML and CSS codes, you do not have to bother yourself with those since Thesis theme will take care of them for you.

Thesis Theme and SEO
Thesis will also allow you to customize your website so that it will be more optimized for SEO. You will be able to edit your website's codes so it will be optimized for the search engines without knowing a thing about coding. Doing so will allow you to achieve higher rankings in search engines.
With Thesis Theme you will also be able to include analytics tracking codes from the control panel. Adding media content will be easier as well since Thesis theme provides an easy to operate multimedia box.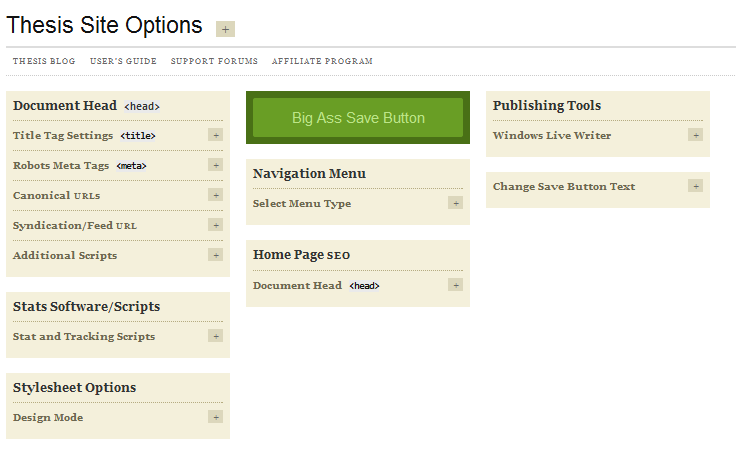 More Options on Thesis To Make Your Life Easier
Changing the Header image – You can change your header image to personalize your site even more. Thesis let you know the optimized header image size according to your current layout settings, and will re-size it if your image is wider.

Uploading a Favicon – A favicon is a small 16 x 16 pixel icon that appears on the right side next to a URL in your browser's address bar. You can use this favicon tool to customize your favicon.

Using the custom file editor – You have too files that will help you customize your site even beyond the options exist in the design options: custom.css and custom_functions.php. In the custom.css you will be able to customize your site's look even more, and in the custom_functions.php you will be able to add more functionality to your site, for example: social buttons.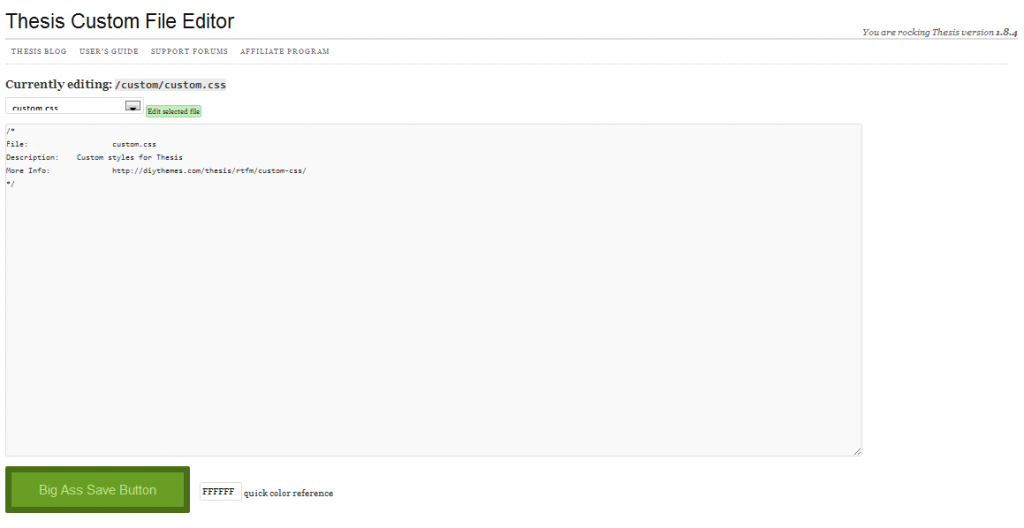 Managing options – Here you will be able to download your designs and settings to your computer for backup purposes or even to upload it to other sites.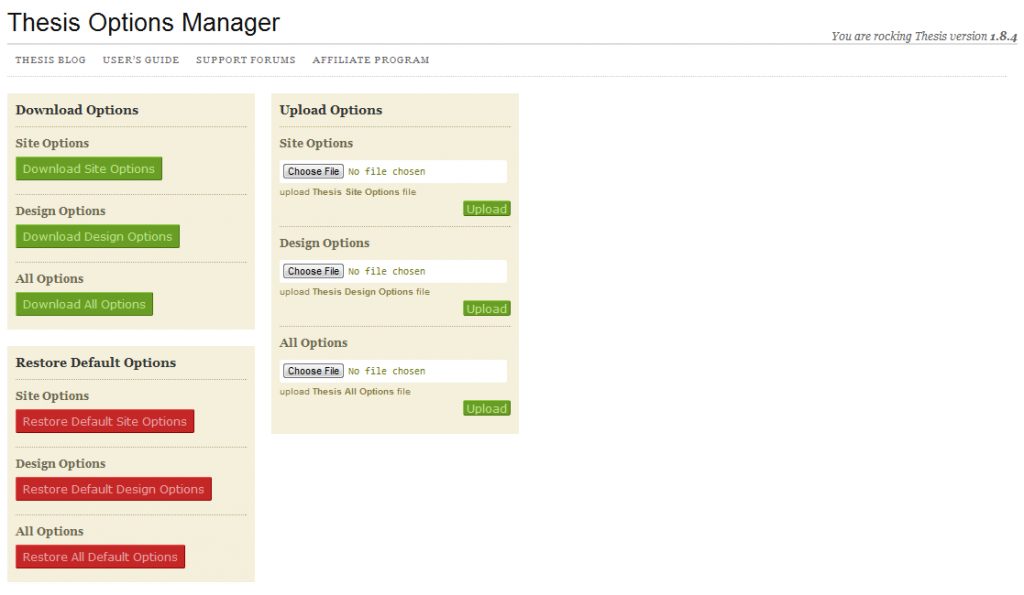 Thesis Theme Makes Site Building Simple and Easy
In a way, Thesis theme is built for people who want to be able to have a say with regards to the SEO optimization of their websites. Not only will you be able to change the design and feel of the website, but you will also find it easier to attain better rankings since it is easy to integrate analytics with Thesis.
With regards to having any concern in using Thesis or just some of its features, it will be easy to contact the support system. More so, with the large community of people who are using this theme, it will be easier to reach out to others in becoming more competent with online marketing.
Does Thesis Theme Work Wishlist Member?
Thesis theme is 100% compatible with Wishlist Member plugin and I actually think you will make a good investment by purchasing it and using it on your membership site.
My Final Words on Thesis Theme
In my opinion, Thesis is more than just a regular theme, it's more of a complete package, and this is the difference between a theme you can get for free online and a premium theme that will give you everything you need in one place using a simple interface.
For more information and pricing details go to Thesis theme homepage
The above link is an affiliate link, so if you found my review helpful, you can use this link for your purchase.