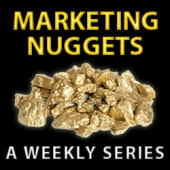 In this week's Marketing Nuggets Series we focused on Email Marketing, since we believe that it can be one of the best ways to market your business.
If you do it right then you will get great results, however, if you do it wrong then you might notice that too many people click on the "Unsubscribe" link and this we would want to avoid…
So in this week's nuggets you will discover:
Marketing Nugget #1 – Should your emails be intellectual or emotional? What are the ingredients of long-term connections? Email marketing is one of the most common ways to market your business. However, it can only be effective if you do it right. Don't miss this…
Marketing Nugget #2 – And in the same subject… How will you even know if your emails convert if your open rates suck? Learn how to boost your emails open rates.
Marketing Nugget #3 – This nugget is not related to email marketing, however, if you are serious about being an entrepreneur, you may find this article interesting…
Registered Members
Log-in and get your nuggets now.
Non-Members
Register for FREE on the form to your right and get instant access to our Marketing Nuggets Series.
Remember
As a registered member you will be able to see the current Marketing Nugget post and future ones.
If you register after the next Marketing Nugget post will be released, you will not able to access any past nuggets.