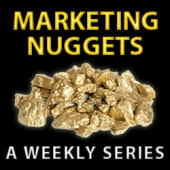 This week on the Marketing Nuggets Series 3 short yet powerful videos about marketing strategies you just must see.
We are sure you will love them…
Without further ado these are this week's nuggets:
Marketing Nugget #1–  Discover the one secret to breaking free of price competition for good! (this one is going to shock you fro sure)
Marketing Nugget #2– A brilliant marketing campaign by one of the biggest companies in the world that got over 15,000,000 impressions online!
Marketing Nugget #3– How to make sure your emails to influential people won't get ignored.
If you are a registered member, you can log-in to read your nuggets.
If you are still not a member, you can register for FREE on the form to your right.
Remember:
As a registered member you will be able to see the current Marketing Nugget post and future ones.
If you register after the next Marketing Nugget post will be released, you will not able to access any past nuggets.