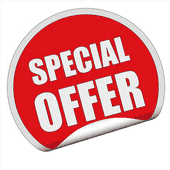 If you are still not using OTO then you are practically leaving money on the table! If you use this marketing method the right way, OTO can increase your conversion rates in over 50% and even more!
So What is OTO Anyway?
OTO or One-Time-Offer is a special offer you suggest to your clients after they complete a certain action you want them to complete in order to increase/ maximize your earnings.
The whole point of the OTO is to be one-time, meaning, it won't repeat itself and your clients will not be able to go back to the OTO page and get that offer again after they leave it.
Your OTO can be a free offer for joining mailing list, downloading a free product or selling a complementary product.
All You Need to Know about Creating OTO
OTO Advantages
OTO Disadvantages
OTO Possible Flows
OTO Pros and Cons
Tips for Creating OTO Sales Letter
OTO and Wishlist Member plugin
How Can You Access the Guide?
It's simple! In order to access the guide all you need to do is register to our FREE membership on the form to your right.
Our Free membership also includes access to all the protected posts and guides we publish.
Register to our Free membership in the form to your right