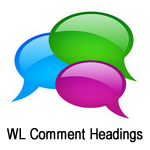 UPDATE:
Wishlist Comments Headings plugin is no longer available for purchase. Send us a quote request for custom development at
http://wishlistmemberdevelopers.com
or check out all the available plugins and extensions for Wishlist Member in the
most thorough repository
we built.
This plugin is not available for purchase anymore.
If you are interested in similar features, you can contact one of our developers for developing this kind of a solution for your exact specifications and requirements email us through the contact form on contact us page
Also, if you are looking to extend your WishList membership site with awesome features that will increase your sales and revenues make sure you check HappyPlugins.com
Wishlist Comment Headings is Wishlist Insider's bonus plugin for January 2013, and I think it's one of the best bonus plugins they released so far!
WL Comment Headings is simple yet powerful… It actually lets you add messages above the comment section to encourage your members to comment on your site.
You can also grab your members' attention by adding images to the messages and different kinds of shortcodes to display specific membership details such as the member's name, for example.
But why is it so important to encourage your members to comment on your site?