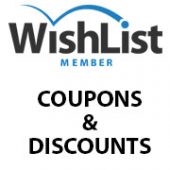 If you landed on this page then you are probably looking for a Wishlist Member coupon code.
To cut to the chase…
The team at Wishlist Products (the company behind Wishlist Member) do not offer any coupons for purchasing their software and they have never offered any coupons in the past.
The license you purchase for Wishlist Member is a one-time purchase (plus support and updates for one year), and you can renew to get support and updates every year afterwards.
Special Offer on Wishlist Member
We are a 3rd-party company that develops plugins and extensions for membership sites and eCommerce platforms.
Wishlist Member is one of the main membership platforms we develop for since its early versions.
You can find all our commercial plugins for Wishlist Member in our online store at HappyPlugins.com and more information about our Wishlist Member dedicated services at WishlistMemberDevelopers.com
As for our special offer…
As Wishlist Member do not offer any coupons and / or discounts on their software (EVER) we want to offer you a special deal:
If you purchase Wishlist Member through our link we will get 1 or 2 awesome gifts from us:
Purchase Wishlist Member Single License >> Get Wishlist Quick Access
Purchase Wishlist Member Unlimited Licenses >> Get Wishlist Quick Access + Wishlist Protection Display
Click on this link to get Wishlist Member and email us to:
info [at] wishlistmemberplugins.net and the special gifts are on their way to you…
More Discount on Wishlist Member
In addition to the above gifts you can also get more discounts for purchasing any of the plugins at HappyPlugins.com
You can get more information about the special discounts you can get in our post: How to Get Multiple Discounts for Any Plugin You Want
And if you have any questions regarding any of our plugins our support team will be happy to answer them.