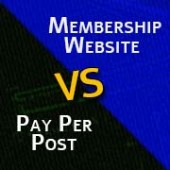 If  it's your first membership website and you are struggling to get new members you may wonder why people don't buy a subscription for your website.
After all, you know you offer the best value for their money and you know if they just try and give you a chance, then they will probably not cancel and enjoy the value that you are giving them.
But still you are having almost no success is getting the amount of new members that you really want.
You may have asked yourself: maybe they are afraid of paying on a monthly basis, and you might even consider switching your website to a pay per post model.
Is it really the right solution?