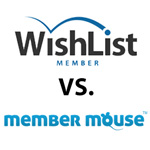 Looking for a full comparison of
Wishlist Member
and
MemberMouse
? Don't know which will do a better job at managing your membership site properly?
In this post we give you a full comparison of the two plugins, including core important membership settings and features.
Just to give you a little bit of background regarding who are the people behind this review:
We are a company that develops plugins for eCommerce platforms and membership sites for more than 7 years now.
We have been using Wishlist Member plugin way back from its very first versions, and our developers know Wishlist Member code by heart.
In the last 6 months we have been digging into the MemberMouse code, have been exploring MemberMouse platform as well and we are in the process of developing plugins for MemberMouse as well.
Even though we are more veteran in developing for the Wishlist Member platform, you can rest assure that the review is objective and provides you with important information about the different features, settings and integrations required for managing a successful membership site easily and wisely, so you can really choose the most suitable platform for you.