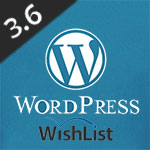 WordPress 3.6 is the latest version of WordPress that has been released today in the final version. Like in any other version WordPress developers added a lot of new features to the core system, removed some functions and fixed some issues that were found in version 3.5.2.
You can find more on all the new features that has been added to WordPress 3.6 at WordPress.org news section, check out the funny video that the WordPress developers team has made.
Because most of our websites have Wishlist Member plugin installed on them, then the real question that we ask ourselves with every new version that comes out is: Does Wishlist Member work with this new WordPress 3.6 version?