Wishlist Member & WordPress 3.6

August 2, 2013

0 Comments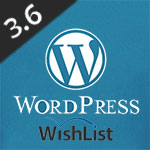 WordPress 3.6 is the latest version of WordPress that has been released today in the final version. Like in any other version WordPress developers added a lot of new features to the core system, removed some functions and fixed some issues that were found in version 3.5.2.
You can find more on all the new features that has been added to WordPress 3.6 at WordPress.org news section, check out the funny video that the WordPress developers team has made.
Because most of our websites have Wishlist Member plugin installed on them, then the real question that we ask ourselves with every new version that comes out is: Does Wishlist Member work with this new WordPress 3.6 version?
The quick answer is Yes.
We have been testing WordPress 3.6 from the early development stages and all the versions have always worked seamlessly with Wishlist Member plugin.
We haven't found any problems or hiccups while using them together.
What do you do If you still have a problem after updating to WordPress 3.6?
Like with any problem that you have with WordPress, you should start checking the plugins and themes first.
So if you encounter a problem using Wishlist Member under WordPress 3.6 try to disable all other plugins first and see if the problem still exists.
If the problem has been solved try to activate the plugins one by one and see which is causing the problem.
If deactivating all  the plugins still hasn't solved the problem, you may try to switch to one of the WordPress default themes Twenty Eleven or Twenty Twelve. These themes are very light and does not include many features, so they may help you check if the problem you found is caused by the theme your website is using.
After you have found the plugin or theme that is causing the problem, contact the developer and notify them about the issue and most of them will happy to solve the problem as quickly as they can.
How do you check it on a live website ?
First of all never update to version of WordPress on a live website until you have checked that they work with all your plugins and themes.
Since I know that you couldn't preform all these tests on a live website without hurting you visitors, I advise you to create a WordPress sandbox website, there you can test all the things that you want instead of changing your live website.
If you are a developer or a designer you probably already have this kind of WordPress website by if not you should start now.
Unless you don't have any other option,  make sure that your WordPress sandbox website will be stored on the same hosting company and environment like your live website.
This way you know that if you encounter into a problem the server parameters are the same as your live website and if everything is working well you would know that your live website will probably work as well as the server and hosting environment  are identical.
I hope this post will help with eliminating your WordPress 3.6 problems if you encounter any, or some other none related WordPress problem.
Your opinion is important to us
Tell me what you think about these type of posts? Would you like to see more of them, or would you like to read on other topics regarding WordPress & Wishlist Member that are not covered here?
Waiting to here you thoughts ….