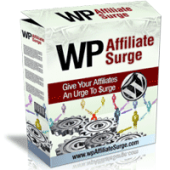 WP Affiliate Surge allows you to create a professional looking resource page for your affiliates that is loaded with promotional tools including: banner ads, email templates and more.
As the owner of membership websites, I believe in promoting my websites through affiliates. I prefer paying them some of my earnings in order to generate more sales and get more revenues.
From my own experience with affiliates, the two most important things when you recruit affiliates to promote your products are:
1. Respecting your affiliates and giving them a decent percentage of the sale.
2. Giving your affiliates the right tools to market your product or business.
We all know affiliates want vendors will make their life easier. I discovered that affiliates are even willing to let go of a great offer if they don't have any promotion tools to work with.
After discovering that lack of promotion tools is the reason why I wasn't able to get any affiliates to promote my business I started looking for a solution to help me… Read more…