WP Affiliate Surge Review

December 24, 2011

1 Comment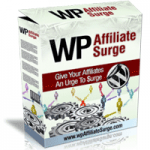 WP Affiliate Surge allows you to create a professional looking resource page for your affiliates that is loaded with promotional tools including: banner ads, email templates and more.
As the owner of membership websites, I believe in promoting my websites through affiliates. I prefer paying them some of my earnings in order to generate more sales and get more revenues.
From my own experience with affiliates, the two most important things when you recruit affiliates to promote your products are:
1. Respecting your affiliates and giving them a decent percentage of the sale.
2. Giving your affiliates the right tools to market your product or business.
We all know affiliates want vendors will make their life easier. I discovered that affiliates are even willing to let go of a great offer if they don't have any promotion tools to work with.
After discovering that lack of promotion tools is the reason why I wasn't able to get any affiliates to promote my business I started looking for a solution to help me…
WP Affiliate Surge is the exact solution I needed. WP Affiliate Surge is a unique plugin that makes the task of building affiliate resource page with all the promotion tools your affiliate marketers need easy and simple.
WP Affiliate Surge Unique Features
Customized affiliate tools page – You can customize your affiliate resource page in a very easy and simple way, just drag and drop the tools you want to build your affiliate resource page.
Very easy to embed affiliate link – A key feature that I really love on Affiliate Surge is that it's very easy to embed affiliate links. All there is to do is to enter the affiliate IDs and the links, and that's about it.
Unique affiliate links – The affiliate resource page gives every affiliate his own unique links that will be updated automatically be updated just by entering the affiliate ID.
Link clocking – Another great feature of WP Affiliate Surge that I find to be entirely useful would be the links clocking.
There are even more great features that make WP Affiliate Surge an awesome plugin you MUST get.
Go to WP Affiliate Surge Homepage
Affiliate Surge – Screen-Shots
WP Affiliate Surge Pros
It will give your affiliates all the tools they need to be able to promote your site.
It's very easy to manage and add you promotion material to.
It Supports many 3rd party affiliate networks and programs.
It Supports shorten URL services like TinyUrl.
WP Affiliate Surge Cons
WP Affiliate Surge will not manage your affiliate program, you will need to use another plugin for that  (you can check Affiliate Royale) or 3rd party service for it.
Is Affiliate Surge Worth its Price?
Happy affiliates means more money in your bank account, so when it comes to investing in your affiliates, I can only say from my own experience that WP Affiliate Surge is worth every dollar.
Help you affiliates and give them all the tools that they need to promote your product or service, and I can guarantee that you will make more money.
If you want to see how WP Affiliate looks like in the affiliates eyes, you can register as an affiliate to one of our new plugins: Wishlist Registration Widget or Wishlist Error Page Booster and register as an affiliate and you will see the WP Affiliate Surge with all the plugins' promotion tools there.
My Conclusion on WP Affiliate Surge
WP Affiliate Surge is one of the few essential plugins out there that are really geared towards delivering you results and making you more profits.
Go to WP Affiliate Surge Homepage
Articles You May Find Interesting