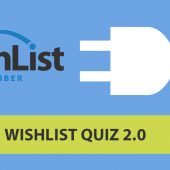 Wishlist Quiz 2.0 is an awesome plugin that allows you to create quizzes for your members.
Quizzes are an awesome way to give members plenty of value and increase their engagement to your membership site.
Wishlist Quiz 2.0 is actually an improved version of Wishlist Quiz 1.0 that was released by the Wishlist team as November 2012 bonus plugin.
I will go over the main differences between the two versions further down this post.