Wishlist Quiz 2.0

September 18, 2013

14 Comments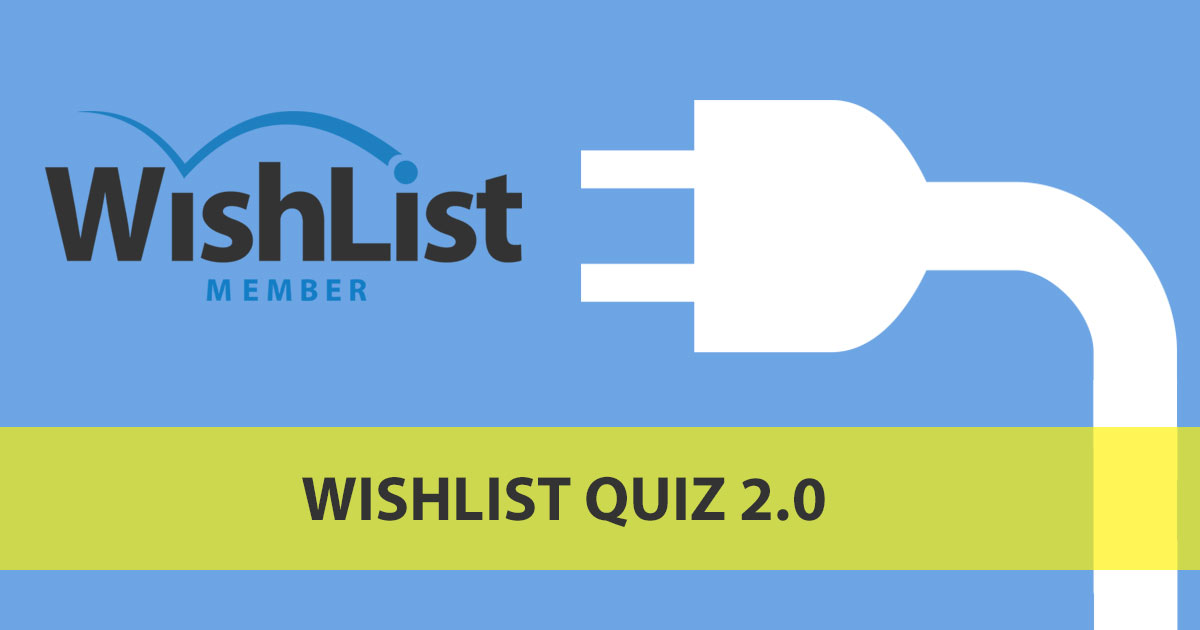 This plugin is not available for purchase anymore.
If you are interested in similar features, you can contact one of our developers for developing this kind of a solution for your exact specifications and requirements email us through the contact form on contact us page
Also, if you are looking to extend your WishList membership site with awesome features that will increase your sales and revenues make sure you check HappyPlugins.com
Wishlist Quiz 2.0 is an awesome plugin that allows you to create quizzes for your members.
Quizzes are an awesome way to give members plenty of value and increase their engagement to your membership site.
Wishlist Quiz 2.0 is actually an improved version of Wishlist Quiz 1.0 that was released by the Wishlist team as November 2012 bonus plugin.
I will go over the main differences between the two versions further down this post.
3 Way To Enhance Your Membership Site Using Quizzes
1. For a Modular Course
If you are a selling an online modular course, you can empower its effect on your members by building quizzes between one module to another.
For example: Members who pass the test successfully will be able to continue to the next module and members who failed the test will need to go through the same module's materials again.
Using quizzes is an excellent way to differentiate your course from other courses and leave a great impact on your members.
2. As a Bonus strategy
You can use quizzes to handout bonuses to your members and increase their loyalty and engagement.
Members who pass the test will be granted access to the bonus area.
For example: You can build several quizzes in different difficulty levels, the higher the difficulty of the test, the grater the bonus is.
3. As Getting Started Practice
You can use quizzes to map your members' level of understanding and give them content that is more suitable to the knowledge they have.
These quizzes can help you divide your members to beginners, intermediate or advanced.
The Process to Building Quizzes Using Wishlist Quiz 2.0
Building quizzes with Wishlist Quiz 2.0 is simple and takes a few minutes:
1. Choose a Name for Your quiz
2. Define the Pass and Fail Settings
The levels your members will be removed from or added to (you can insert more than one level)
The After Quiz page
3. Choose a Passing Score
4. Write the Questions and Answers for Your quiz
Determine a score for each question
Choose the correct answer from the answers provided
5. Insert the Shortcodes Inside the Relevant Pages
Core Pages Needed for Wishlist Quiz 2.0
1. A page where you add the quiz to
2. A quiz success page
3. A quiz fail page
Wishlist Quiz 2.0 Settings
Wishlist Quiz 2.0 has 3 main tabs:
The Settings Tab
In this tab you can write different messages your member will see in different situations:
Missing quiz message
User not logged-in message
Quiz taken message
The Quiz Builder Tab
This is where you create your quizzes.
Quiz Results Tab
You can filter the quizzes according to different segments.
This is a great way to get to know your members better and to be able to provide them with suitable content
according to the results.
You can take actions based on the results of the quiz: delete from membership level, add to level etc.
Wishlist Quiz 1.0 vs. Wishlist Quiz 2.0
Wishlist Quiz 2.0 is an improved version of Wishlist Quiz 1.0, and in the second version there is a lot more flexibility:
1. Pass or Fail Settings
Version 1.0 – You can only determine settings for a passing member
Version 2.0 – You can determine settings for members who pass or fail the quiz
2. Add or Remove from Levels
Version 1.0 – You can only add a passing members to a level
Version 2.0 – You can add or remove members from certain levels and select to which page each of them will be transferred to
3. Submission Button Text
Version 1.0 – Can't be changed
Version 2.0 – You can Change the text for the quiz submission button
4. Quiz Building Flow
The flow of the quiz building process in version 2.0 is much easier.
5. Quiz Results Filter
There are a lot more options to filter the quizzes results, which can help you get to more conclusions regarding your members.
6. Using the Shortcodes
In version 2.0 the quiz's shortcodes can be easily inserted into the pages by using the WLM icon inside the page's toolbar.
FAQs
Can a user do the test more than once? Yes
Is it possible to add open questions to the quiz? No open questions and answers, right or wrong answers only.
Is it possible to have multiple correct answers? Yes
Is it possible to determine a percentage instead of a passing score? No, however, the wishlist team said they will check this option.
Wishlist Quiz 2.0 Screenshot
Click on the link to enlarge screenshot: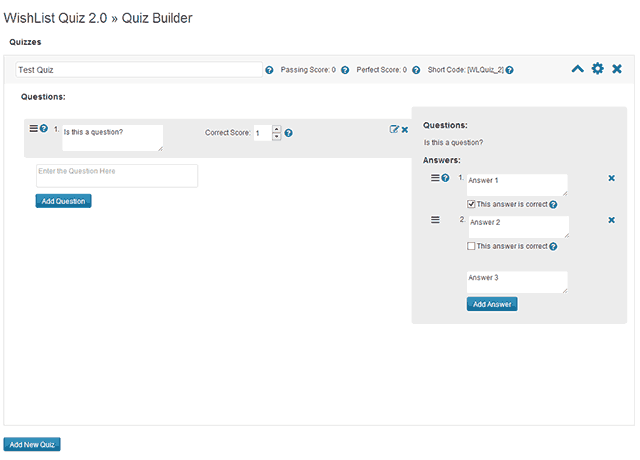 How Can I Get Wishlist Quiz 2.0?
This plugin is not available for purchase anymore.
If you are interested in similar features, you can contact one of our developers for developing this kind of a solution for your exact specifications and requirements email us through the contact form on contact us page
Also, if you are looking to extend your WishList membership site with awesome features that will increase your sales and revenues make sure you check HappyPlugins.com